Origin of nanoMark
The nanoMark is founded by Industry Development Bureau, Ministry of Economic Affairs in 2003. It is the first nano-product certification system of the world. The purpose is to protect consumer rights and interests, encourage sustainable development for outstanding companies and enhance the international competitiveness of nanotechnology industry. After 13 years operation, the nanoMark has built a healthy developing environment for nanotechnology industry by linking the efforts of government, industry and consumers.
The establishment and promotion of the nanoMark was a part of "the national nanotechnology science and technology program" which was responsible for research development and technological transfer to industries. After 12 years implement, The program has accomplished its many industrialization missions, nanoMark is one of the remarkable accomplishment. The nano-products account for over 10 billion NTD each year in five traditional industries fields.
The most reliable and trustworthy verification system in the world is usually handled by professional associations or independent organizations. The usual principles for setting up a certification mark system rely on the nature of enforcement. The mandatory mark is usually managed by government, the voluntary mark is usually managed professional associations or independent organizations. The nanoMark is now a mature system, it started from government policy supported and implemented system for establish the industrial standards, integrating industrial chains, innovating new products and innovating economic development pattern. To meet the fast development of international standards and establish a sustainable development of nano-products, the Industry Development Bureau evolved the industrial development transformation plan to industrialize nanotechnology applications. Also, it transferred nanoMark verification system to the Taiwan Nanotechnology Industry Development Association (TANIDA) to continue the operation for a new milestone.
The meaning of nanoMark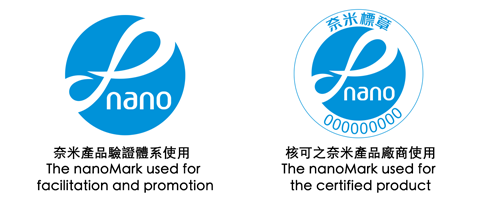 The nanoMark is symbolized by an unlimited "∞" sign, to represent the unlimited micro size of nano and unlimited macro size of the applications of nano-technology.
The "flying 8" form symbolizes a prosperous development.
The English word "nano" is added to promote international recognition.